Smart brands tell stories. It's the way marketing has been done for decades. The smartest know that creating an emotional connection to a product or service increases people's desire to obtain it. So, they work hard to hijack our emotions to reel us into wanting their product over their competitors. They do that by first understanding their customer base and then creating stories that speak to them on a deep-rooted emotional level.
The art of storytelling is nothing new for marketers. What is interesting though, is how this concept has started creeping into user experience design over the last few years, to the point where now it's a core focal point of content design. Brands are employing content designers to craft narratives around their product proposition in ways that rarely happened before. There are certain types of stories that work well (which we can see in the case studies below). Those tend to be around topics that are considered positive for the environment or working practices but can also resonate through strong brand values that uphold a particular purpose or mission.
We can see in the data, that storytelling absolutely has a positive effect on conversion. If you're a brand that has a story to tell, read on to see how you can use this art to boost your own sales.
What the data show us
Before diving into some examples of how storytelling in marketing has been applied. Let's look at some data.
Stories boost conversion rates by up to 30%
A case study supported by Search Engine Watch showed that storytelling boosted conversions by up to 30% when used to answer customer questions. There was a greater focus placed on B2C than B2B marketing in this study. However, this still led 62% of B2B marketers to rate storytelling as an effective marketing tactic.

Stories told by people
According to a report released by Nielson (a global leader in audience measurement and data analytics), the person we listen to matters. 70% of people will trust a recommendation from someone they don't know. Whereas 92% will trust recommendations from those they know personally.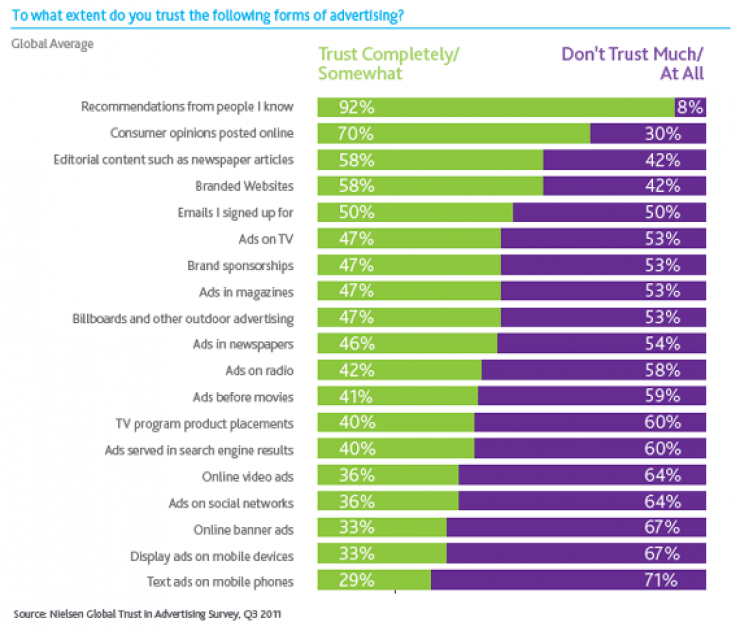 The Nielson study surveyed more than 28,000 people from 56 different countries.

The brain can identify images after as little as 13 milliseconds
Humans are visual creatures and can identify and interpret images incredibly fast. It takes just 13 milliseconds for our brain to catalogue a visual cue (much faster than we do with auditory cues). Between 65 and 80% of us report being able to learn better visually. In addition, our ability to recall images is impressive when tested, with up to a 90% accuracy on 2,000 images over several days.

Stories create pictures
If a story is not shown visually, our brain is quick to create its own imagery, especially when the subject matter has an emotive quality. This helps us to retain stories in our memory far longer than pure facts.
Stories are 22 times more memorable than plain facts
In his book 'Actual Minds, Possible Worlds', Jerome Bruner (the American cognitive psychologist) shows us that stories are 22 times more memorable than plain facts. Stories provide clear and vivid concepts to hang facts on that are much more memorable to us and tend to stick around in our heads when facts tend to be forgotten all too quickly.

Stories foster engagement
One reason stories are so great for memory recognition is they are much more engaging to us. Here, Groove HQ increased their blog engagement by 300% by A/B testing their content with and without storytelling (the average time on the page also increase 5x).

The types of stories brands are telling
When we look at brands that are doing storytelling well, there are some clear topics that stand out. The narratives we see coming through the most currently are around:
Sustainability & positive environmental action
Supporting local communities
Having ethical working practices
Being organic or using natural ingredients
If your brand can identify with any of these topics in its manufacturing production or sales process, you should absolutely be looking to champion those when speaking to customers. The key though (and I cannot stress this enough) is to be authentic. These stories need to come from a place of genuine action. If you're not actually doing these things, don't try and fake them. Modern consumers can smell that a mile away and it's the quickest way to destroy a brand.
So, let's look at some great examples of brands that have got their stories straight and are doing a great job of sharing with their customers.
Brand storytelling case studies for 2023
Here the Userism team (shout out to Paige & James's research efforts here) have pulled out some favourite examples of brands that have strong stories weaved throughout their product proposition narratives. We're focusing purely on the websites to highlight the way content design has been used to enhance user experience as potential customers navigate through the site learning more about the products on offer.
TOMS
TOMS is a shoe retailer that has made storytelling part of its brand from the beginning. They started by giving away 1 pair of shoes for every pair sold. The stories they tell focus on their commitment to an eco-friendly and sustainable future.
What they're doing to tell their story:
There is a prominent 'Impact report' on their website, that's divided into purpose, people and planet.
They are B Corp certified, meeting the standards required for social and environmental impact.
They gave away $1,700,000 in 2022, impacting 147,510 lives.
They have commitments towards environmental impact, including reducing carbon footprint, using sustainable cotton and making packing greener.
They support additional projects including mental health awareness and pride month.
Their storytelling language
'Wear toms, wear good' - Directly speaks to the user, you can feel proud to wear their products.
'When you buy toms, you help fund access to mental health resources for the millions of people who need them' - A strong statement that plays into the emotion of the user.
(Discussing B corp status) 'As of now, our score is 121.5—25% higher than our first. Still, we think we can do even better.' - This gives users a sense of commitment to do better.
Natures Path
Natures Path are an organic food producer, focusing on cereals and granolas. Their brand is strongly rooted in themes of nature and community. The stories they tell focus on the origins of their products and their commitment to supporting communities.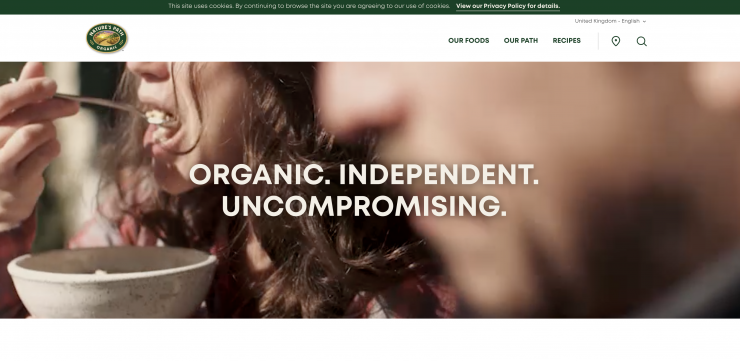 What they're doing to tell their story:
The natural/organic nature of their produce is pulled out throughout their content.
They run annual 'foodraisers' to support local food banks and urban garden projects.
They are proud of being family owned and make this a core feature.
They strongly stand for organic and strictly use no pesticides or fertilizers.
They promote 6 sustainability goals: Grow organic, Address climate change, Achieve zero waste, Preserve water, Educate Inspire and Engage, Give back.
Their storytelling language:
Emphasis on organic: 'We always have and always will use our voice to defend what we believe is right, and what "organic" truly means.'
'In everything we do we aim to work in harmony with nature – mirroring its patterns and its ancient wisdom.' - Using emotive language to bring it back to nature and organic ingredients.
Statements from the founders 'by creating and maintaining good soil through sustainable practices, our precious planet can continue to sustain life indefinitely.'
Grumpy Mule
Grumpy Mule is an award-winning coffee brand committed to supporting farmers and promoting ethical coffee manufacturing. The stories they tell, support their brand values around ethical practices throughout their operation.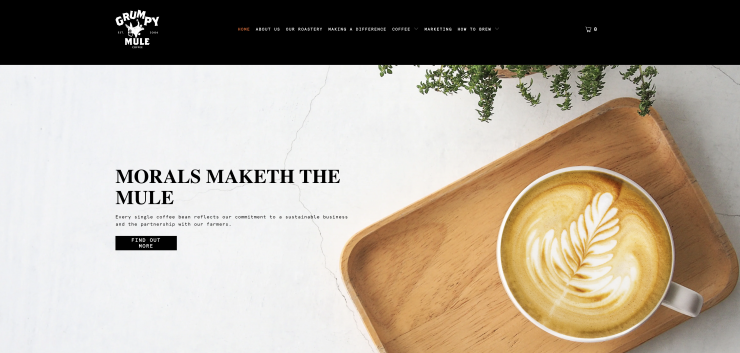 What they're doing to tell their story:
They include dedicated sections to talk about their commitments to: helping mitigate climate change, eliminating child labour, supporting equality, and supporting their local community.
Their story is based on their mission to fight throwaway, unethical coffee, sourcing fairly and sustainably.
'Our roastery' highlights their commitments which are broken down into 3 areas: sustainable, ethical and traceable
Their storytelling language:
They get to the point much quicker than some might with short, punchy statements: 'meticulously sourced, ethically traded, deliciously grumpy.'
They continue this statement approach with added humour: slogans like 'morals maketh the mule'.
'Buy this climate change mitigating coffee' - having a button stating this, makes users feel that they're not buying just any normal coffee but an ethically sourced one.
Herbal Essences
Herbal Essences is a hair care brand with products made from primarily natural ingredients. The stories they tell provide a sense of commitment to an eco-friendly and sustainable future.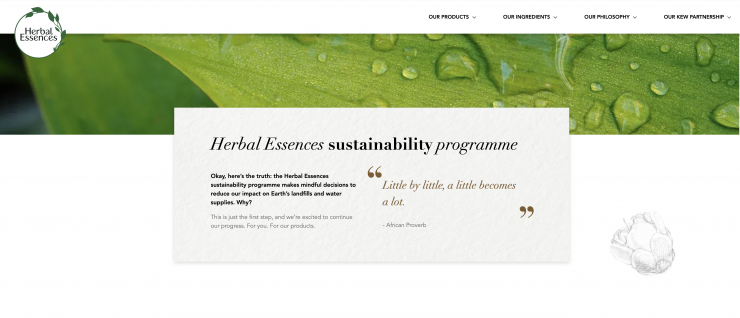 What they're doing to tell their story:
They promote shampoo refill systems, which highlights their commitment to sustainability.
Their sustainability program champions: improving product packaging, using renewable energy and reducing waste.
They have a 'No No No list' promoting higher standards of product safety and products that contain no allergens, colourants, paraffins and other ingredients to say no to.
They have partnered with Kew Gardens to help save endangered plants from extinction.
Their storytelling language:
'Haircare products inspired by nature', 'Ingredients you can trust and hair that you'll love' - Their language gives users a sense of experience.
'Dedicated to creating quality shampoos and conditioners' - This gives the user the feeling of commitment to quality products as their core values.
'Plant-based ingredients certified-real by experts at the Royal Botanic Gardens, Kew' - Including research and scientifically based statements gives them proven/real evidence behind the products.
True Botanicals
True Botanicals is a skincare manufacturer with a primary focus on natural ingredients that are ethically tested. The stories they tell reinforce strong brand values around ethical production and the use of natural/organic ingredients.
What they're doing to tell their story:
They make it clear their products are 100% non-toxic, safe and use cruelty-free ingredients.
They champion a sustainable manufacturing life-cycle (from farming practice through to product end of life).
They've created a skincare quiz to help users determine their perfect routine.
They use celebrity testimonials, discussing how they use products in their own life.
Their storytelling language:
Including vivid, nature-based imagery throughout the site.
'Liberate your glow with wildly clean ingredients.' Feel-good language like this makes the user want to try out the products.
'True transformations' shows the before and afters of real users (adding authenticity to the brand).
'Our mission is to run a business that could actually help reverse climate change.' - Powerful statements reinforce a commitment to real change.
How to get started with storytelling
If you've been inspired by what others are doing and think you have a good story to tell, here are some tips on how you can get started.
The latest trends in storytelling for 2023
The function and structure of stories have changed little over thousands of years. The way we tell them has though. Some of the latest trends to get your story in front of people are:
Short-form video
Micro-content
Authentic low-fi (customer created)
Using credible sources (fact-checking)
Increased experimentation with non-traditional formats
What every story must have
If you want to create a story that captures the imagination of the viewer, it must include some emotional elements. Facts and figures are boring. Describing how a certain situation will effect people in either positive or negative ways, helps create a connection on a human level that will stay in the mind much longer.
Personality is something to consider. We tend to trust the information we perceive to come from an authentic source more and it usually helps to put a face to that source. Brands speak in different voices. Your brand tone of voice should be suitable for the subject matter and complimentary to your story narrative.
Typically, a great place to start with planning your narrative is pain points. If you know the problems potential customers come up against, showing you understand this positions you as a source of authority and someone who can help the customer to get past them.
Your messaging then should be around solving those pain points. Be the solution to the customer's problem. Provide them with exciting goals to strive for and a clear pathway to success. Making the reader part of the story is a great way to foster excitement. Show them you understand their intentions and have a solution that will improve their life in some meaningful way.
3 story structures to consider
A story triangle
A story mountain
A story with 3 acts
The story triangle
As described here at Nielson Norman Group, a story triangle suggests an equal weighting link between the Story, Storyteller and the Audience. It proposes that the audience has an important (and even active) role to play in interpreting the story. Depending on the individual, audience members may interpret details differently and fill in missing gaps where others may not. This can lead to varying conclusions. An accomplished storyteller may use this to alter the outcome their stories may have on different people.
The story mountain
A story mountain describes the peaks and troughs of a story template that can be used to great effect to create intrigue, tension and resolution (taking the user on an emotional journey that captures their attention). The stages of a story mountain look like this:
Exposition: Establishing the characters and setting
Rising action: Communicating the problem your character (the reader) is facing
Climax: Create a turning point that details how the character is effected
Falling action: Describing the steps required to solve the problem
Resolution: End by showing how the solution worked
The story with 3 acts
A story with 3 acts is another classic template you may consider. There is something magical about the number 3. We, humans, love to group things together in 3's. It just seems to make sense deep down in our mammalian brains, and a story with 3 parts tends to work very well:
Act 1: The audience is introduced to the characters, their relations and the story setting (providing enough motivation for a protagonist to move on).
Act 2: The momentum builds, along with the tension (feared outcomes increase as the suggested solutions seem unlikely to win).
Act 3: A character performs an action that changes the direction of the momentum and provides a resolution.
Ending the story
Stories are certainly a powerful way of communicating a message. As emotional creatures, we humans are captivated and drawn in by them in ways presenting pure facts could never achieve. It's clear that storytelling has become an increasingly important part of user experience design. As an eCommerce agency, we see this trend only increasing over the coming years as brands battle to increase online sales.
So, if you have a story you can tell about your product, and (this is important) you can do it in an authentic way from a place of truth, you should absolutely be doing that. Those that tell the best stories will win out over the long term.